Welcome to J.O. Combs Food Services Site
The J.O. Combs Food Service Department is dedicated to delivering high quality, nutritious meals to our students. We recognize that the eating habits we form in our youth are those habits that will stay with us for a lifetime. Therefore, we teach the importance of nutritious meals and we encourage good eating habits. We recognize that nutrition impacts classroom performance, so our menus and food preparation is designed to teach health wellness. We also encourage parents to help their children to eat healthy, nutritious foods both at school and at home.

We know that good nutrition and learning go hand in hand.
The Food and Nutrition Services department is made up of a team of food and nutrition professionals that are dedicated to students' health, well-being and their ability to learn. We support learning by promoting healthy habits for lifelong nutrition and fitness practices.
Food and beverages sold or served at school meet the nutrition recommendations of the USDA New Meal Pattern, AZ Department of Education, and the 2010 Dietary Guidelines for Americans. We provide students with access to a variety of affordable and appealing foods that meet the health and nutrition needs of students.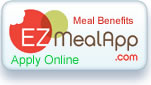 Household applications for the new school year are now available in both paper form and online version

Please contact Food and Nutrition at 480-987-5312 with any questions.